Details

Written by Admin
Hits: 14407
Klaus Finkenzeller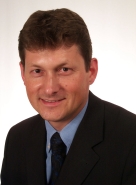 Klaus Finkenzeller, born in Germany, received his Dipl.-Ing. (FH) degree in electrical engineering from the Munich University of Applied Sciences (FH), Munich Germany. In 1989 he joined Gisecke & Devrient. Since 1994 he has been involved in the development of contactless smart cards and RIFD systems. He is currently working as a technology consultant for RFID/security, where he is involved in basic development and innovation projects. Since 1994 he has been engaged in the standardisation of contactless smartcards and RFID Systems (DIN NI 17.8, NI 31.4, SC17/WG8), where he has been vice chair of the German DIN NI17.8 (ISO/IEC 14443) for more than 10 years now.
Up to now he has published about 145 individual patent applications, mainly in the RFID field of technology. In 1998 he published the RFID handbook, which now is available in its 7th edition and in 7 different languages.
In 2008 Klaus Finkenzeller received the Fraunhofer SIT smartcard price for his work on RFID, especially the RFID handbook (See /smart-card-preis-2008.html in German language only).